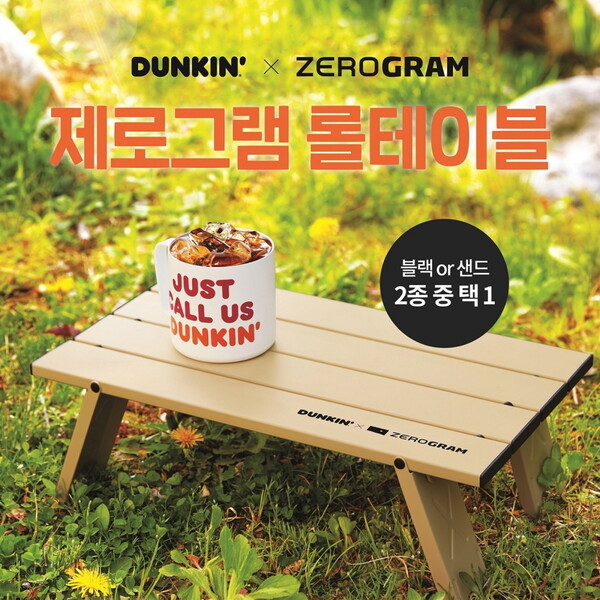 [Digital Today Reporter Cho Belieum] On the 21st, Dunkin, operated by BR Korea, a subsidiary of SPC Group, announced on the 21st that it will present a roll table as limited goods in cooperation with Zerogram and will conduct a promotion.
As the popularity of camping and picnics has recently increased, Dunkin introduced a'roll table' that is easy to use outdoors because of its light weight and high portability. In addition, a neat and sensational design was applied to meet the needs of customers who create a camping atmosphere inside the house, such as voranda camping.
Dunkin's'Zerogram Roll Table' is a folding type camping table that can be easily rolled out. Made of aluminum, it is light in weight (650g) and is resistant to corrosion and moisture. When folded, it is a compact size that can be held with one hand, and a separate pouch is provided to increase portability.
When the roll table is unfolded, the table top and legs are stably fixed, and it is a good size for enjoying coffee or dessert when camping.
An official from SPC Group Dunkin said, "Dunkin's roll table was created by adding Dunkin's sensibility to the outstanding technology of the outdoor lifestyle brand, Zerogram."
Author/ Translator: Jamie Kim
Bio: Jamie Kim is a technology journalist. Raised in Hong Kong and always vocal at heart. She aims to share her expertise with the readers at blockreview.net. Kim is a Bitcoin maximalist who believes with unwavering conviction that Bitcoin is the only cryptocurrency – in fact, currency – worth caring about.