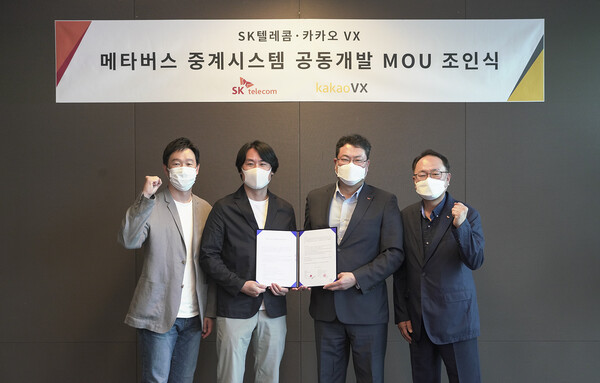 [Digital Today Reporter Baek Yeon-sik] Metaverse Live Golf Broadcasting, which enhances realism and immersion by applying metaverse solution to golf tournament TV broadcast, will be held for the first time in Korea.
Since the signing of a'strategic partnership' between SK Telecom and Kakao in 2019, successive cases of initial cooperation between the two companies have also been carried out in the media field.
SK Telecom announced on the 20th that it has signed a business agreement with Kakao VX, a sports digital transformation company, and decided to jointly develop metaverse golf relay technology using AI media and 3D graphic technology.
The two companies will introduce a metaverse broadcast that combines virtual and reality in the'SK Telecom Open 2021′ event held at Pinx Golf Course in Jeju Island on June 10. It plans to provide realistic broadcast video by combining it with the provided 3D map.
It is a metaverse relay method that shows various data such as ball drop point, ball trajectory, flying distance, remaining distance, and shot distribution on a virtual 3D course familiar to screen golf enthusiasts.
The metaverse broadcast will be shown in three holes #7, #13, and #18, and it will be possible to realistically see the trajectory of a player's tee shot in a virtual space using radar technology. In particular, in the last (18th) hole, the AI ​​will predict the players' putting line and compare it with the actual player's putting, which will add more fun to seeing.
SK Telecom's various media big tech technologies will be showcased in the broadcast of this event. First, SK Telecom will use AI technology to recognize individual players and introduce the'AI Highlight' technology that automatically edits and displays major stadiums for each player and for each hole in real time.
Second, by removing noise on the golf course with audio separation technology, players can even hear the conversation with the caddy to target the hole, allowing viewers to feel the vividness of being in the field.
In addition, using'Super Nova', which is a technology for improving image quality and extending frames, AI shows the swing motion of players with 30 frames per second converted to 120 frames in slow motion, allowing viewers to see in detail the swing moments of players who cannot even shoot with high-speed cameras. I can.
To this end, SK Telecom is building a metaverse golf broadcast system with JTBC Golf, an official data provider, and CNPS, an official data provider, and Kakao VX.
Lee Jae-kwang, head of the media business support group of SK Telecom, who planned this metaverse broadcast, said, "With the availability of live golf broadcasting using metaverse and AI, in the near future, it will be possible to play together with professional golf players at the game field and golf enthusiasts at the screen golf course. A variety of exchanges between sports players and fans are possible."
Lee Jong-seok, director of Kakao VX, said, "Through this partnership with SK Telecom, Kakao VX can expand its sports digital transformation and challenge new broadcasting services." We will present a new paradigm of sports broadcasting by showing off the meaning of the partnership."
On the other hand, this tournament will be broadcast live from 11 am on June 10th through the JTBC Golf Channel, and various game contents that were not shown in the tournament broadcast at the'Magazine Program Review Show' after the end of each round are broadcast. The main scenes of the past SK Telecom Open competition and all video clips of this competition produced using AI technology can also be viewed through SK Broadband IPTV and mobile Btv.