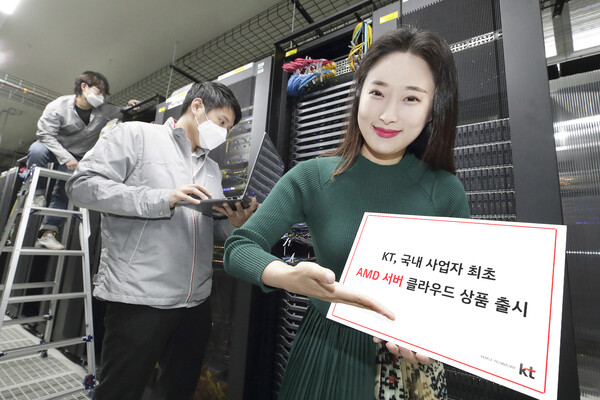 On the 19th, KT (CEO Jae-in-Mo) announced that it will launch an AMD processor-based virtual server Infrastructure as a Service (IaaS) product in its cloud service.
AMD servers are offered to corporate customers at 80% of the cost of existing same-spec servers.
According to KT, AMD servers can be applied not only to general web and middleware, but also to various business fields such as database and big data analysis.
KT said, "As a result of self-verification, AMD servers are showing the same level of performance as Intel server CPU Cascade running on the KT Cloud D1 platform. Enterprise customers preparing for large-scale deployment use AMD servers to use the total cost of ownership," said KT. (TCO) can be reduced."
KT plans to expand AMD servers to the D1 platform, as well as KT G-Cloud (Public Cloud Zone) and F-Cloud (Financial Cloud Zone). All.
Lee Mi-hee, head of KT's Cloud/DX Business Division, said, "AMD servers can be helpful to customers who are preparing for large-scale deployment with high price competitiveness. KT Cloud will be able to provide service-type infrastructure (IaaS) at a reasonable price. We will continue to discover competitive products so that we can do it.
Author/ Translator: Jamie Kim
Bio: Jamie Kim is a technology journalist. Raised in Hong Kong and always vocal at heart. She aims to share her expertise with the readers at blockreview.net. Kim is a Bitcoin maximalist who believes with unwavering conviction that Bitcoin is the only cryptocurrency – in fact, currency – worth caring about.