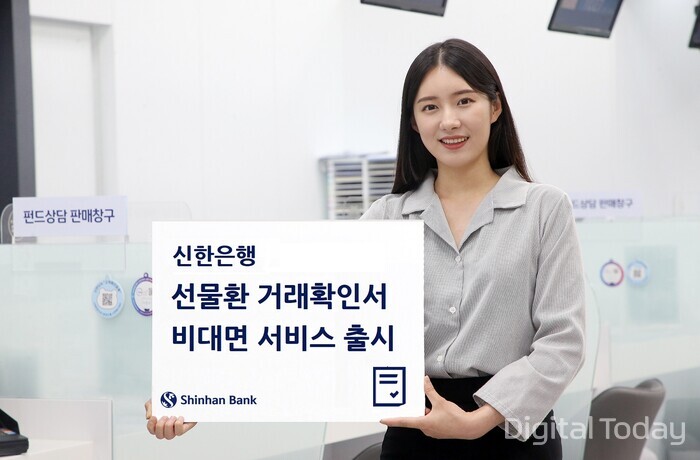 [Digital Today Reporter Kang Jin-gyu] Shinhan Bank (bank chief Jin Ok-dong) announced on the 17th that it will start a service that allows import and export business customers to submit non-face-to-face transaction confirmations after forward exchange transactions.
Forward exchange trading is a foreign exchange hedging product frequently used by import and export business customers to hedge against exchange risk caused by exchange rate fluctuations.
Until now, when an import/export business customer visits a branch office or enters into a forward exchange transaction by wire, the bank must fill out a transaction confirmation form to confirm the transaction details, and then the import/export business customer must seal the transaction confirmation form and submit it to the bank by hand.
Forward exchange transaction confirmation non-face-to-face service makes this process possible non-face-to-face. After the corporate customer concludes the forward exchange transaction, the submission process is completed when the transaction details are verified through the additional service of the Shinhan Bank Corporate Internet Banking Foreign Exchange menu and the transaction confirmation form is verified.
An official from Shinhan Bank said, "I hope that this service will allow import and export business customers to use forward exchange transactions more conveniently." "We will continue to strive to enhance customer convenience by providing a variety of customer-oriented services."
Author/ Translator: Jamie Kim
Bio: Jamie Kim is a technology journalist. Raised in Hong Kong and always vocal at heart. She aims to share her expertise with the readers at blockreview.net. Kim is a Bitcoin maximalist who believes with unwavering conviction that Bitcoin is the only cryptocurrency – in fact, currency – worth caring about.