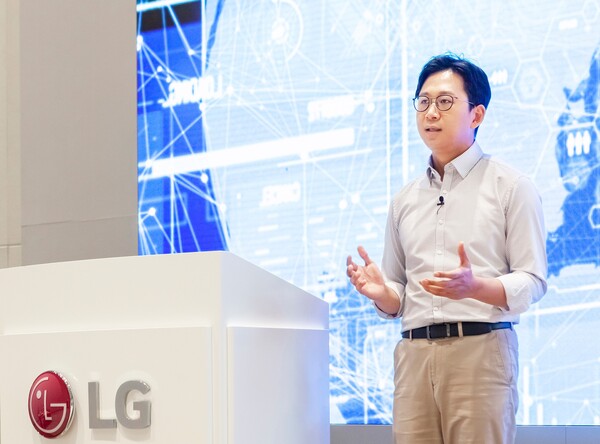 [Digital Today Reporter Cho Belieum] LG is leading the evolution of deep learning technology by developing'ultra-giant AI', which is emerging as a new paradigm of artificial intelligence (AI), leading to innovation in customer value and improving the quality of life.
LG AI Research Institute, LG's AI organization, announced on the morning of the 17th that it will invest more than 100 million dollars in securing and developing a large-scale computing infrastructure that can rapidly process vast amounts of data over the next three years at the'AI Talk Concert' held in a non-face-to-face manner. did.
'Super-giant AI' is an AI that resembles the human brain structure that comprehensively and autonomously thinks, learns, judges, and acts not limited to specific uses by learning large-scale data based on a computing infrastructure capable of large-capacity computation.
LG AI Research Institute plans to build an AI computing infrastructure that is at the top 3 level in the world, capable of processing 5,700 trillion times in 9 scenes per second for the development of'ultra-giant AI', and continues to expand to the world's best level.
In the second half of this year, LG is launching a 'Super Giant AI' with 600 billion parameters, which is more than three times the 175 billion parameters possessed by GPT-3, the most outstanding super-giant AI language model developed by the American AI Research Institute' Open AI. Reveal.
Parameters play a role similar to synapses, which are responsible for learning and remembering information by connecting neurons in the human brain. The larger the parameter scale, the higher the AI ​​intelligence.
GPT-3 allows natural conversations like humans and can create essays and novels, and the'super giant AI' developed by LG AI Research Center is capable of understanding not only language but also images and images, and even data inference.
In the first half of next year, LG AI Research Institute is also planning to develop a trillion-unit parameter'super giant AI', and it is expected to be the first case among global manufacturing companies to develop a'super giant AI' of this scale.
LG AI Research Institute has developed digital humans based on deep learning technology, chatbots that communicate naturally like humans, develop anticancer/vaccine drug candidates, predict the capacity and lifespan of large-capacity batteries, automate inspection processes based on computer vision, and demand for parts and products. Digital transformation has been promoted by applying deep learning technology to predictions.
The plan is to increase customer value by innovatively innovating the way of working by developing a'super giant AI' that has the capability of'top 1% human expert' in each field such as software development, data analysis, and customer consultation.
For example, in order to improve the quality of consultation services provided by the customer center, a super-giant AI can be used as a virtual advisor that summarizes the customer-specific consultation history, so that the counselor can provide services tailored to each customer's individual situation.
It is applied to customer counseling chatbots and call bots that respond to customer inquiries by text and voice, and analyzes the customer's emotions revealed in sentences or conversations, enabling a natural and highly satisfying service.
While providing general customer consultation at the level of the best professional counselor in the customer center, it also develops an AI that enables direct contract signing-related sales for B2B customers.
The product development process is also drastically shortened. Existing new product development took a considerable amount of time because professional software developers had to redesign when improvement or modification of a new product occurred during the design, design, and production process from the initial product planning stage. When applying'ultra-giant AI', if an expert describes the user interface in human language, the AI ​​can process software coding to dramatically shorten the product development process.
It also produces results in fields that could only be carried out by tens of thousands of experts working together with the super-giant AI. LG plans to accelerate discovery of new materials in the field of next-generation batteries and high-efficiency light-emitting diodes based on AI. It builds a database by automatically analyzing papers and patents in the chemistry field for 250 years with'ultra-giant AI'. The plan is to construct a comprehensive material database by recognizing molecular structural images in the paper, extracting material property information from tables, and extracting various experimental conditions from the text. Through this, it will find next-generation battery materials to accelerate the development of safer and longer-lasting electric vehicles, and develop high-efficiency light-emitting materials to develop TV products with clearer image quality and less power consumption.
Furthermore, it will be applied to the development of an anticancer vaccine, a new concept cancer treatment that utilizes the human immune system, presents a healthier life through eco-friendly plastic materials, and challenges to pass on a cleaner planet to our descendants.
It will also develop a'creative super-giant AI' that enables collaboration with designers and enables product design and product interior design. For example, if you enter "a robot vacuum cleaner design that resembles a super car," AI automatically generates hundreds of corresponding design proposals, and designers can design and design detailed designs based on the proposals created by AI. The novelty of the design can be maximized and time can be shortened.
"We will secure world-class research capabilities by actively building an open ecosystem for advanced ultra-large AI research, large-scale computing infrastructure, and data acquisition and commercialization with global partners," said LG AI Researcher Director Bae Bae-Hoon. We will lead the latest AI technology with talented people who dream of the same dream to not only provide a more enjoyable, more convenient, healthier, and happier life for people, but also to improve the universal quality of life for mankind. We will disclose the results of our research in the second half of the year."