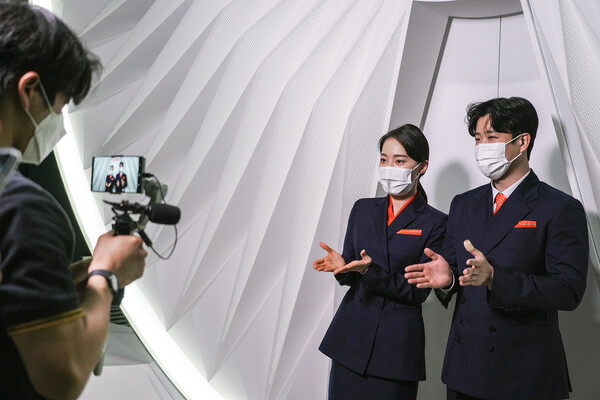 [Digital Today Reporter Baek Yeon-sik] SK Telecom's ICT experience center T.um, which was visited by 130,000 people from 180 countries, sought a change when offline operation was not easy due to the coronavirus. Recorded video is also possible, but live video is provided for a limited number of people every day. It's for immersion. It is explained that this is because interaction (interaction, mutual influence and dialogue) is the most important.
There is also a glimpse of efforts to go beyond the limits of online, such as calling out the names of visitors one by one and responding through the chat window. About 1,000 people visited for 15 days, and many elementary and junior high school students who suffered from field trips participated. SK Telecom announced that the untact (non-face-to-face) Tium tour will continue even after the coronavirus. This is because it was judged that it would help to bridge the information gap for students who are difficult to visit in Seoul.
In a question and answer after the Untact Tium tour, which was opened to reporters on the 14th, Song Kwang-hyun, head of SK Telecom's digital communication manager, said, "Previously, 20,000 people watched each year. Last year (due to Corona 19), the environment became so poor that it was hard to tell the numbers. Even through an untact tour, we are trying to provide a level of interaction and immersion close to offline. Even after the corona, the untact tour will continue."
Since its opening in 2008, Tium has undergone large-scale renovation in 2017. It is a way to give a shape of life in the future by assuming and predicting the situation of 2040. Accordingly, it is impossible to relate the current business model to the business model of 2040, the company said.
"However, I can imagine that if ICT technology continues to develop in the form of life through convergence and convergence, it will not look like this in 2040 or so. "It will develop like that," he said. "Communication is one of several elements of semiconductors and ICT, and the function will be a form of convergence and synergy, so I have not thought of connecting Tium and post-communication directly."
Tium is centered around a virtual future city called'Highland'. About the reason why the city was named Highland, Won Jong-rok, head of SK Telecom's Strategy PR Team, said, "I thought to see you from a distance. It is not the near future, but the far future after 30 years. Thinking about it, challenging it, and dreaming. So, it was assumed that the year 2045," he said. "There is a name for Highland as a spatial concept, and it contains the high meaning of the name High."
The technologies applied to Tium include augmented reality (AR) and virtual reality (VR) related to metaverse, and robotics and holograms are reflected. "These technologies are 100% our company, and there are areas in which we collaborated with external players," said Song. "Rather than becoming a business model one by one, the ICT field is converging and accelerating, so it is certainly an important technology in that respect. Do. It is grafted in that part," he said.
SK Telecom chose YouTube as its non-face-to-face experience platform channel. Regarding this reason, Mr. Song said, "At the time of planning, several solutions were tested and feedback, but there were still people who had limited access or difficult to use other solutions, so I started using YouTube as a basic platform. There is also an opinion that it would be good if instantaneous interaction was possible, so we are exploring possibilities such as whether we can introduce a video solution or an upgraded solution in the future."