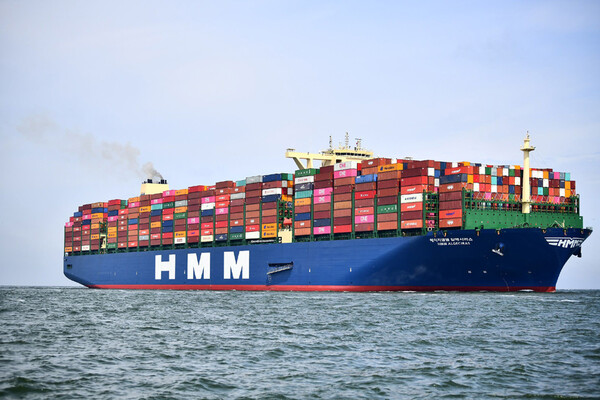 HMM achieved the highest quarterly performance since its inception due to a surge in shipping freight rates and an increase in efficiency following the introduction of super-large ships.
HMM announced on the 14th that it had turned into a surplus with an operating profit of KRW 1,19.3 billion in the first quarter of this year alone.
Last year's overall operating profit exceeded 980.8 billion won.
Sales were totaled at 2.428 trillion won, an 85% increase from the same period last year.
Net income was 154.1 billion won, an improvement of 219.7 billion won from the same period last year.
This is the highest quarterly earnings since HMM's predecessor, Hyundai Merchant Marine, was founded in 1976.
Net income compared to operating profit declined, HMM said, because the new accounting standards were applied following the conversion of shares of convertible bonds issued in December 2016.
HMM interpreted that sales and operating profit improved significantly as freight rates and cargo volume increased.
Container loads increased 7% year-on-year, and the market conditions improved significantly as fares for all routes including the Americas and Europe rose.
In addition, it was cited as a reason for improving performance by securing large-scale vessels such as the world's largest 24,000 TEU (1 TEU is one 20-foot container) container ship.
HMM announced that it will further elaborate cost reduction measures by securing superior shippers and increasing operational efficiency, thereby gaining competitiveness at the level of global shipping companies.
HMM emphasized that it will do its best to support export companies that are struggling with the lack of ships due to the aftermath of Corona 19.
To this end, HMM is preparing to order 12 additional 13,000 TEU-class Neopanamax-class container ships in consultation with creditors such as the government and Korea Development Bank.
HMM has put a total of 24 temporary ships in the West Bank of the Americas, East Coast, Europe, Russia, and Vietnam from August last year to the present.
An official from HMM said, "This performance improvement was possible thanks to active support from the public, government agencies, and creditors.