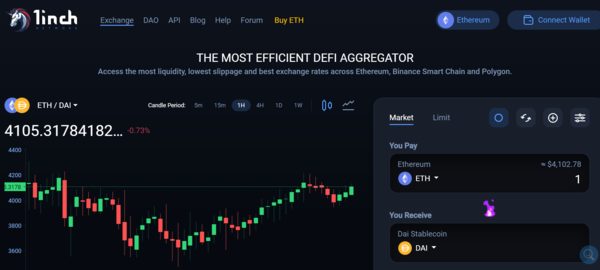 [Digital Today Reporter Chigyu Hwang] The 1-inch network, which provides a platform that allows you to find the best deals across multiple decentralized exchanges (DEXs), has expanded to Polygon, an Ethereum layer 2 scalability solution.
As a result, 1-inch users can access liquid resources in DeFi protocols such as Curve, Swap, Quick Swap, Abe Version 2, and Comes based on Plegon.
According to CoinDesk reports, more protocols will be added.
Layer 2 scalability solutions such as Polygon enable fast and inexpensive transactions by operating a parallel network or sidechain on the Ethereum mainnet.
As the gas cost, which is a fee for transactions on the Ethereum mainnet, is rising, there is an increasing number of Ethereum-based DeFi services that attempt to use Layer 2 as an alternative. Ebe, one of the large DeFi protocols, is also integrating with Polygon to bypass the high Ethereum gas cost.
He explained that the 1 inch reflects a significant increase in user demand for integration with polygons.
Previously, the 1-inch network expanded the network to Binance Smart Chain, a DeFi platform operated by the global cryptocurrency exchange Binance, and since then, there have been many requests to use polygons among existing Ethereum-based network users. .
According to the 1-inch network, the 1-inch aggregation protocol is already deployed on polygons, and the 1-inch liquidity protocol and 1-inch governance protocol are expected to expand to polygons within a few weeks.
Polygon aims to facilitate asset transfer between its Layer 2 blockchain and Ethereum.
Those who access the 1-inch network through polygons can transfer their assets between Ethereum and Polygon. Polygon also offers a dedicated wallet for users to store their assets.
According to Mesari, a cryptocurrency information service service, Polygon is the second largest layer 2 scalability solution. The market value of Matic, a token issued by Polygon, is about 6 billion dollars.