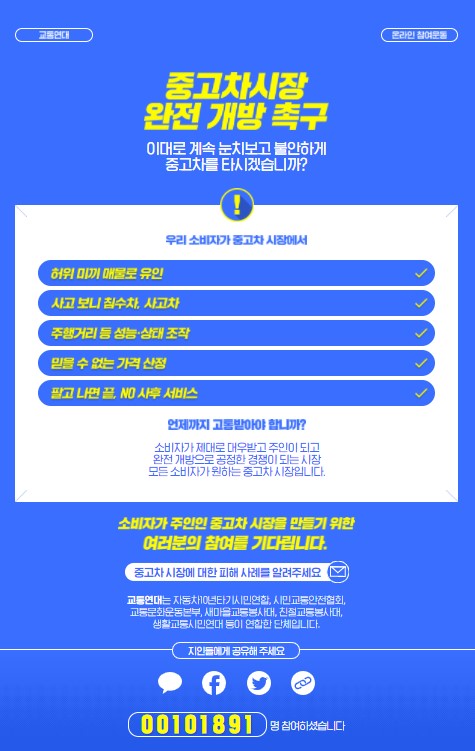 [Digital Today Reporter Kim Yang-ha] There is a growing voice that the used car market, which is constantly dissatisfied with small and large problems, should be opened to large companies.
Consumers are angry when a recent police investigation reveals that a car in their 60s, who made extreme choices in February, was touted by a used car sales group.
Netizens claim that only those who have died are poor and demand that the used car sales group, which is like a criminal group, be punished severely. In addition, the government and political circles such as the police, the Fair Trade Commission, and the Mid-term Venture Department are asking what they are doing.
In particular, they are raising their voices that large corporations should enter the used car market and normalize the market.
Civic groups are also insisting that the problems in the used car market should be improved.
As a result of the'Transportation Alliance', which was united by six civic groups such as the'Car 10 Years Riding Citizens' Association,' an online signing campaign urging the entire used car market to open, the number of participants exceeded 100,000 from the 9th.
Civic groups urged the government to make an early decision to prevent consumer damage, saying, "The fact that more than 100,000 consumers participated in less than a month expressed dissatisfaction with the used car market."
Civic groups and consumers argue that imported car brands are in the used car certification business, but it is reverse discrimination that only domestic automakers such as Hyundai Motor and Kia cannot participate.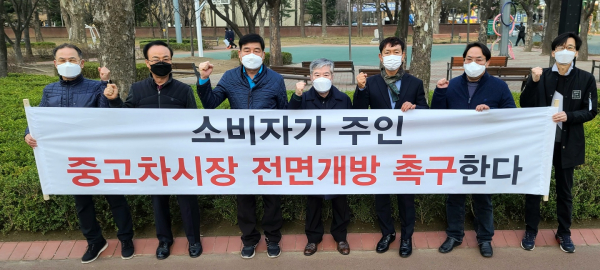 However, the government authorities are not taking any action.
The domestic used car trading business was designated as a suitable business for SMEs in 2013, and large companies such as SK withdrew.
Even though the regulation was sunset in February 2019, the Ministry of SMEs and Startups, which is the main ministry, is not even deciding whether to continue applying the regulation.
In November of last year, the Shared Growth Committee decided that it was inappropriate to include the used car trading business as a suitable business for living, but the Ministry of SMEs and Startups has not yet made any decisions.
Recently, due to the shortage of automotive semiconductors, consumers are not receiving delivery of new cars in time.
In many cases, it is necessary to wait 2 months to 1 year for each vehicle type.
Therefore, consumers who urgently need a vehicle have no choice but to buy a used car.
As the government has postponed its decision and has not taken any action, the damage to used car consumers is expected to increase further.