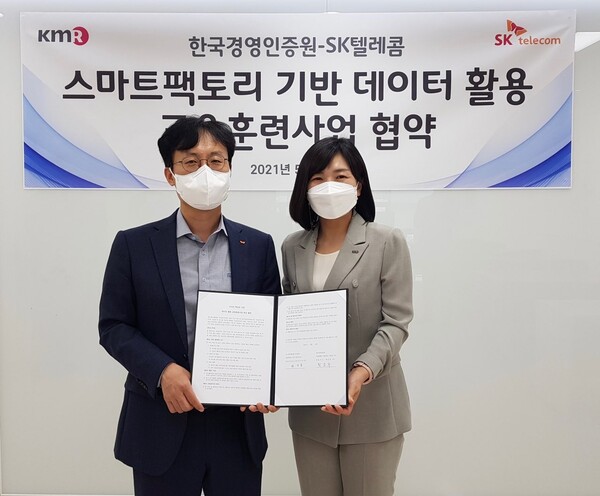 [Digital Today Reporter Baek Yeon-sik] SK Telecom has signed a business agreement (MOU) with the Korea Management Certification Institute to jointly conduct education and training projects (K-Digital training) related to data collection and utilization for the introduction of smart factories by small and medium-sized manufacturing companies. It was revealed on the 13th.
SK Telecom and the Korea Management Certification Agency are planning to jointly plan and develop a training model based on data utilization for the introduction of a smart factory for selected small and medium-sized manufacturing companies with less than 300 employees in the future.
The Korea Management Certification Institute is a certification body that provides knowledge services such as ISO certification and management evaluation, as well as a government-recognized'Smart Factory Level Verification System' verification agency. It has been designated as'center' and is conducting a smart factory support project.
In this support project, SK Telecom provides free grandview solutions to small and medium-sized factories for experience, and conducts training on using smart factory data. This enables small and medium-sized manufacturing companies to have the ability to predict and maintain major facilities that can affect production and quality based on data generated from major facilities in the actual field. Predictive maintenance refers to predicting in advance whether there is an abnormality in the condition of the facility or in the future, and maintaining and repairing it appropriately.
The Korea Management Certification Institute was in charge of designing the entire process of collecting/preprocessing/analyzing/utilizing data for each major process of the factory through customized training by injecting a smart factory consultant at the site.
This training project runs through a training process of up to 8 days. Detailed courses are ▲Installation of SK Telecom's Grand View program and development of the Korea Management Certification Institute training program (2 days) ▲ Predictive maintenance training for facilities using process data collection and Grand View (2 days to 4 days) ▲ Consulting for on-site digitalization (2 days) Proceeds to
The most important thing when implementing a smart factory is that the operating personnel directly acquire data utilization capabilities, contributing to production efficiency and cost reduction.The two companies' training will improve production efficiency and reduce costs along with cultivating data utilization capabilities for internal workers. It was expected that it would be an opportunity to realize this.
The two companies will actively cooperate in various smart factory solution education projects and on-site commercialization based on'Metatron Grand View'.
SK Telecom plans to promote the commercialization of the method of preloading the facilities of small and medium-sized manufacturing companies by upgrading the facility-based AI model by analyzing the data collected in the smart factory based on the cloud.
Nak-hoon Choi, CO of SK Telecom's Smart Factory, said, "Through this project, small and medium-sized factories will be able to develop their own data-based work capabilities at manufacturing sites undergoing rapid changes. "We will continue our efforts so that we can grow together with small and medium-sized manufacturing companies by experimenting with technologies that can be grafted into smart factories through cutting-edge ICT technology and applying them to the process."