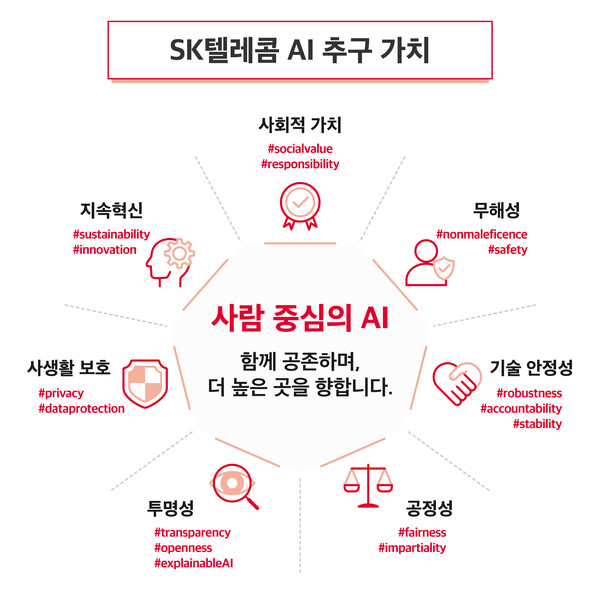 [Digital Today Reporter Baek Yeon-sik] On the 13th, SK Telecom announced the establishment of the value of pursuing AI with'people-centered AI' as its core philosophy, and innovating into an AI company in earnest. Based on this, SK Telecom plans to establish concrete measures to apply to the overall management system, such as reflecting company rules and developing AI service checklists.
'AI Pursuit Value' is a value to be provided to customers by utilizing AI, and is a standard for members to practice. The AI ​​pursuit value is composed of the slogan and the seven pursuit values. In the slogan'People-centered AI-coexisting together, heading to a higher place', we emphasized the coexistence of people and AI, and embodied this as the seven values.
The seven values ​​pursued are social values, harmlessness, technological stability, fairness, transparency, privacy protection, and sustainable innovation that SK Telecom has pursued as its main values.
'Social Value' is to utilize the potential usefulness of AI as a tool to solve the problems faced by society, and'Harmlessness' recognizes that AI has difficult to overcome limitations and operates in the design of AI services for safe service. It is a value for checking and coping with the expected risks.
The characteristics of the AI ​​pursuit value established by SK Telecom are the emphasis on'technological stability' and'privacy protection'. 'Technology Stability' reflects the responsibility to provide stable services to customers anytime, anywhere in a hyper-connected society based on 30 years of experience in providing telecommunication services as the nation's top telecommunications company.
'Privacy' means that AI will evolve based on data learning and become closer to customers through hyper-connectivity, so we will strictly comply with privacy regulations and faithfully take measures for a safe data management environment.
SK Telecom also reflects its willingness to lead AI by actively cooperating with stakeholders in an open manner in response to rapidly developing AI technology and social environment by including the value of'sustainable innovation'.
In May, SK Telecom plans to reflect the value of AI pursuing in its corporate rules so that all members can use it as the basis for management activities, and establish a company-wide training course in the first half of the year to internalize the value of AI pursuits.
SK Telecom is planning to apply it to the PLM (Product Lifecycle Management) process of various services provided by SK Telecom to ensure ethics in all stages where AI is applied, from service preliminary review to customer feedback.
AI checklists are also developed to facilitate the application of AI-related tasks. The checklist is not only applied to existing AI services, but also areas that can be applied differently for different people by specifying how to specifically reflect the value of AI pursued at each stage, such as planning, development, distribution, and operation of newly developed AI services. It is a standard to ensure stable operation by minimizing the value.
SK Telecom has formed an expert advisory group to reflect its expertise in various fields in the value of this AI pursuit. In the advisory group, Professor Oh Byung-cheol of Yonsei University Law School (Ethical Law), Professor Sang-cheol Park of Seoul National University Law School (Artificial Intelligence Law), Professor Hyun-Kyung Kim (Intellectual Property Rights, Information Technology) of Seoul National University of Law (Intellectual Property Rights, Information Technology), and Seok-Won Yoon, CEO of TestWorks, an AI social enterprise. , Professor Hye-Yeon Oh (Social Computing) and Yoon Kim CTO will participate in KAIST Department of Computer Science.
The advisory group will discuss issues related to AI ethics through regular meetings and propose ways to strengthen the AI ​​application system. It also participates in webinars held twice in May and June to provide insights on the latest trends in AI ethics at home and abroad.
At the annual'ai.x conference', the right AI ecosystem is established by planning sessions where experts at home and abroad can share various viewpoints and opinions on AI ethics, and AI industry related people from various fields, such as academia and industry, look back on the value of AI. We plan to lead the way to spread.
At the beginning of this year, SK Telecom proclaimed'Innovation as an AI Company' and has been pursuing the establishment of company-wide AI principles. Through employee workshops and executive interviews, SK Telecom confirmed the major principles that SK Telecom had considered while developing AI, analyzed domestic and foreign AI ethical standards, and gathered opinions from experts. In February, an online seminar was held to enhance the understanding of AI ethics among members. Through this process,'the value of pursuing AI' was established with the idea of'people-centered AI' as the core.
The ideology centered on'people' has been importantly reflected since the beginning of SK Telecom's AI development. The ai.x conference held since 2018 was'Human. Machine. With the theme of'Experience Together', the need for an AI ecosystem for'people' and the importance of preventing misuse of AI have been emphasized.
SK Telecom has also created AI use cases that enhance social value for people, such as a service for caring for the elderly living alone using artificial intelligence services, and'SafeCaster', a service to check the safety of coronas around me.
SK Telecom CTO Kim Yun said, "Establishing the value of pursuing AI is the first step for SK Telecom to transform into an AI company." "As AI service is a hyper-connected service involving an unspecified number of people, it has the characteristics of incompleteness as its fate. , PLM establishment, checklist establishment, etc. through efforts to strengthen the integrity, we will try to provide people-centered AI service to our customers."