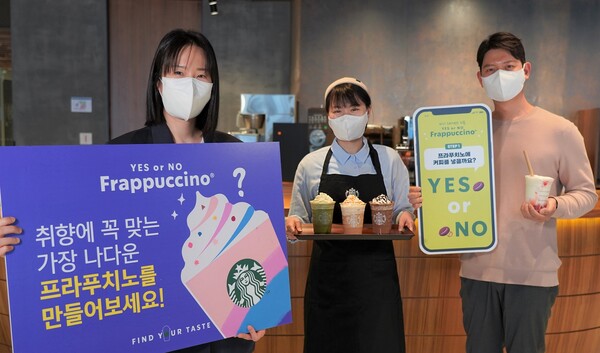 [Digital Today Reporter Cho Beliem Eum] Starbucks Coffee Korea (CEO Song Ho-seop)'YES in which customers directly participate in the development of frappuccino beverages based on My Starbucks review (customer survey service) from May 13th to May 27th. or NO Frappuccino' event.
The'YES or NO Frappuccino' event focuses on the customization service of Starbucks, which combines various ingredients according to drinks such as espresso shots, syrup, milk, etc. to make drinks tailored to the customer's taste, and customers choose a drink recipe and then complete it. This is a beverage development event for customer participation that releases the finished beverage as a regular drink of Starbucks.
Beverage recipe competition from step 1 to step 7 is conducted in the form of competition from step 1 to select coffee, step 2 base, step 3 main flavor, step 4 sub flavor, step 5 whipping type, step 6 topping type, and 7 From the two to three examples presented for each step, up to the type of step drizzle, the customer can choose the recipe they want.
The event is conducted through the My Starbucks review installed in the Starbucks application, and recipes that have been selected for each stage will be revealed at the next stage of voting.
From May 13th to May 14th, the recipe competition will take place for two days in each step, starting with step 1 and from step 7 (5/25 to 5/26), and final voting on May 27, the last day. A drink naming event will be held with the results revealed
Starbucks' regular frappuccino drink will be released at the end of June with a recipe completed through voting.
Participation targets are Starbucks Rewards members who purchased frappuccino drinks by siren order during the event period (5/13~5/27), or purchased frappuccino for the last year (2020/05/11~2021/05/10) Any Starbucks Rewards member with experience who used siren orders during the event can participate.
Customers who participated in the event are provided with a wealth of star-earning gifts. Whenever you participate in each recipe competition, 1 participation star is accumulated, and when participating in all recipe competitions up to 7 stages, 7 participation stars and an additional 5 attendance stars are provided.
In addition, if your choice matches the recipe voting result for each stage, one additional star for each stage will be accumulated and up to 7 additional stars will be provided.If you participate in the beverage naming event after the recipe matchup, one naming star will be awarded. Additional points are earned. Finally, we plan to provide up to 20 stars accrual benefits to customers who participated in all stages and naming events.
"The'YES or NO Frappuccino' event is an event designed to reflect the high interest in customizing to make a drink tailored to individual tastes, and a drink is released with a recipe that the customer directly participated in," said Seok-Hyun Jang of the Starbucks Data Intelligence Team. It is expected to provide meaningful enjoyment while being different in terms of it."