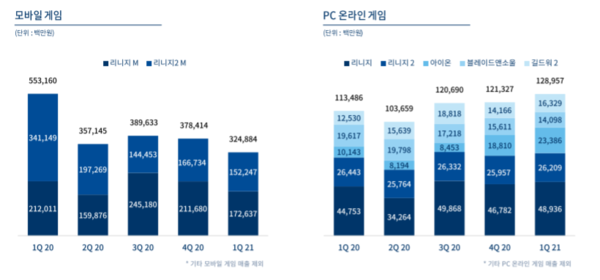 [Digital Today, reporter Choi Ji-yeon] NCsoft achieved less than expected results in the first quarter of this year. This is attributed to delays in launching new games and rising labor costs. NCsoft plans to continue its offensive with new titles, such as Trickster M and Blade & Soul 2, which are expected to be released in the second quarter.
NCsoft's first quarter of this year recorded 5125 billion won in sales, 56.2 billion won in operating profit, and 80.2 billion won in net profit. Compared to the same period last year, sales and operating profit decreased by 30%, 77%, and 59%, respectively. In particular, operating profit was far below the market forecast (135 billion won).
Sales growth slowed due to delays in the release of new titles after the release of Lineage 2M last year. Increased marketing costs and labor costs for new titles scheduled to be released in the second quarter are attributed to the decline in operating profit.
Marketing expenses increased by 23% QoQ to 55 billion won due to launches in overseas regions and increased marketing activities for new games in Korea. Labor costs increased by 26% QoQ to KRW232.5 billion due to increased manpower, regular incentives and one-time special performance compensation. Recently, NCsoft raised annual salaries of 13 million won for development workers and 10 million won for non-development workers.
NCsoft's mobile game sales in the first quarter of this year fell 41% year-on-year to 3249 billion won. Lineage M sales are 176.2 billion won and Lineage 2M is 152.2 billion won. On the other hand, PC online games increased 13% to 129 billion won. Lineage KRW 48.9 billion, Lineage 2 KRW 26.2 billion, Aion KRW 23.4 billion, Blade & Soul KRW 14.1 billion, and Guild Wars 2 KRW 16.3 billion.
In a conference call for 1Q earnings announcement on the 10th, Jang-wook Lee, head of NCsoft's IR chief, said, "The labor cost has risen compared to the previous year due to the annual salary increase for all employees." This was used" he said.
He added, "This can be sufficiently offset by the effect of the new work, and it is expected to serve as a basis for long-term performance." NCsoft expressed anticipation for the new work, which is expected to be released in the second quarter. 2'is released.

First, Trickster M will be released on May 20th. Trickster M is a multi-access role game (MMORPG) called'Cute Lineage'. It was scheduled to be released on March 26th, but has been delayed to improve the game's completeness. Currently, the number of advance reservations has exceeded 5 million.
"(As a result of pre-reservation), NCsoft chief executive Jang-Wook Lee said, "The ratio of female users in their twenties is high." said.
He also mentioned the Trickster M charging policy. Director Jang-wook Lee added, "The Trickster M billing policy cannot be made like Lineage M," and added, "We plan to set it so that the fun of MMOPRG can be maximized."
In addition, NCsoft showed confidence in Bulso 2, which will be released in June. Bulso 2 is a martial arts MMORPG game that utilizes Blade & Soul intellectual property rights (IP) and is counted as one of NCsoft's greatest expectations. Blade & Soul and Lineage are NCsoft's most popular IPs.
Director Lee said, "Bulso 2 is performing better in the pre-booking stage than Lineage 2M. We believe that it has succeeded in bringing the target audience of Bulso 2 to a wide range, including low-age people."
"In the past, in the case of PC Bulso, the main users were in their 20s to 30s, but in this Bulso 2 pre-booking stage, the proportion of people in their 40s to 50s was high." Added.
When a question was asked whether the decline in lineage series sales and the related boycott had an effect, Lee said, "If you look at all traffic indicators, such as (boycott impact), practically all traffic indicators such as daily users (DAU), you will not be able to find any impact." "Traffic indicators If it's not good, I can't speak with confidence, but I'm very happy now."
It also revealed that the release of'Aion 2'is difficult to determine this year. Aion 2 is a new game that was expected to be released at the end of this year. The prolonged working from home in the aftermath of Corona 19 has affected the schedule of many games.
"The delay in the release of new titles such as Trickster M and Blade & Soul 2 has been affected by telecommuting for half a year." It is difficult to confirm that it will be released," he said.
He added, "I don't know how the telecommuting will change, so I want to take that part into account and take a leisurely schedule," he added. "Many projects are going on at the same time, so there will be an opportunity to announce the release schedule along with other projects as well as Aion2."