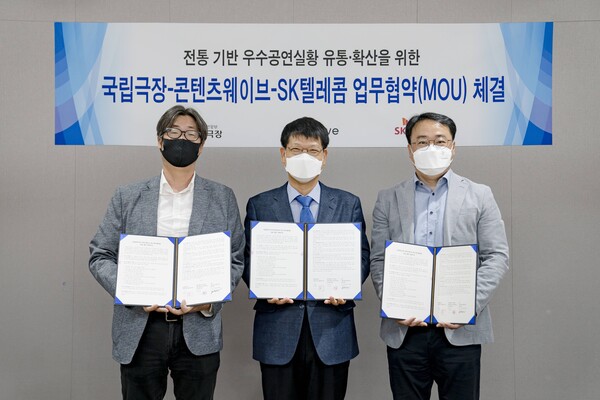 [Digital Today Reporter Baek Yeon-sik] SK Telecom announced on the 10th that it has signed a business agreement with the National Theater of Korea and Content Wave, and has agreed to cooperate to revitalize traditional performances and secure 5G content.
Through this agreement, SK Telecom produced a variety of traditional performances organized by the National Theater as digital video contents using advanced ICT technologies such as 5G and AI, and created the online video service (OTT) platform'Wavve' and SK Broadband. It will be released for free through'Mobile Btv'.
The digital video to be presented by the three companies is composed of ▲multi-view and multi-audio that can be viewed by selecting the sound of a specific instrument or the player, ▲multi-angle where you can enjoy the performance from various angles, ▲commentary video and performer interviews.
To this end, SK Telecom plans to deploy 14 cameras and 40 microphones at the performance site to vividly capture at least five angles, and even the cast's facial expressions and breathing sounds. In addition, it plans to provide a split screen and a 4x magnification function so that you can see scenes that have been easy to miss.
To this end, SK Telecom produced and broadcast a total of four works, including a Korean Symphony Orchestra concert last year, and a performance by Lim Dong-hyuk and Richard Yong-Jae-O'Neill with Credia, the largest classical performance planning company in Korea.
Although it was broadcasted on Wave and Btv for a fee from the end of November last year to March of this year, it has been well received by classical lovers and confirmed the possibility of 5G content.
Lee Jae-kwang, head of SK Telecom's Media Business Support Group, said, "Through this cooperation, we will be able to revitalize traditional performances that are suffering from Corona 19, as well as provide customers with a new enjoyment of enjoying 5G-based traditional performances."
National Theater Director Kim Chul-ho said, "It is more meaningful in that public art institutions and private companies have come together to expand the base of traditional arts beyond simple business cooperation."