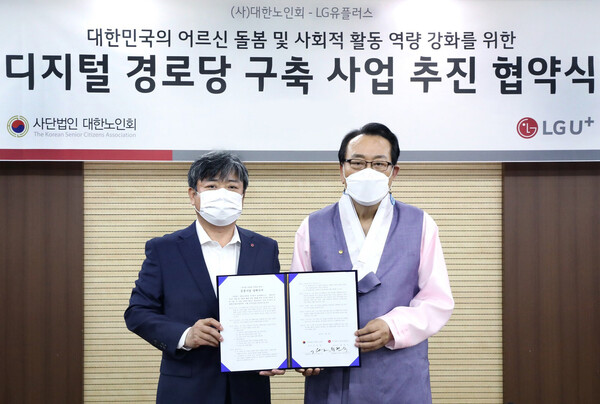 [Digital Today Reporter Baek Yeon-sik] LG U+ and the Korea Senior Citizens' Association will build an ICT-based'Digital Senior Citizen' to improve the welfare of the elderly.
On the 10th, LG U+ and the Korea Senior Citizens' Association announced on the 10th that they have signed a'digital pathway party building cooperation' to strengthen the social activity capacity and care system of the elderly.
Digital Routedang is a space where video conferencing systems and caring robots are introduced based on wired and wireless communication infrastructure such as LTE and Wi-Fi.
Seniors can perform stable activities in an optimal environment through indoor and outdoor environmental monitoring. It also plays a role in responding to loneliness or accidents by analyzing the attendance status of visitors.
The number of elderly people aged 65 or older this year, as predicted by the National Statistical Office, is about 8.5 million, which is increasing rapidly by an average of 500,000 each year. LG Uplus and the Korean Senior Citizens' Association decided to actively introduce ICT to strengthen the safety and social participation of the rapidly increasing elderly population.
Through this cooperation, LG U+ is in charge of establishing and operating a wired and wireless communication network on which the establishment of a digital channel is based. The Korean Senior Citizens' Association plans to gradually promote the establishment of communication networks for 68,000 senior citizens nationwide.
In addition, the plan is to consider introducing artificial intelligence (AI)-based robots to the digital path hall. The AI ​​robot communicates freely with the elderly, provides a sense of psychological stability, and guarantees safety through an emergency call function when an abnormality is detected. In addition, it plans to introduce an ICT-based education system and a distance education solution to close the information gap between regions.
Chairman of the Korean Senior Citizen's Association Kim Ho-il said, "To establish an active commercialization model that is different from the existing welfare related to the elderly, we have promoted the establishment of an ICT-based digital pathway party. We will continue to discover services."
Taek-jin Choi, head of the corporate division of LG Uplus (Vice President), said, "We will support the establishment of a digital senior citizen through the use of LG Uplus's ICT capabilities. That's the goal" he said.