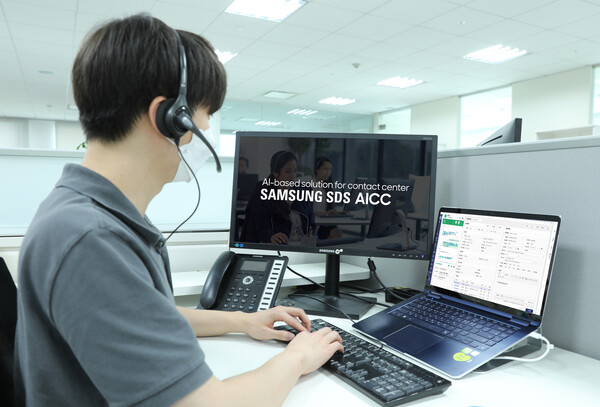 [Digital Today Reporter Baek Yeon-sik] Samsung SDS announced on the 9th that it will expand the AI ​​Contact Center (AICC) business, which is an intelligent contact center based on artificial intelligence (AI).
AICC is an intelligent contact center solution that improves work efficiency and customer satisfaction by applying virtual consultation, consultation support, and consultation analysis based on AI technologies such as natural language understanding (NLU), speech recognition (STT), and text analysis (TA).
Samsung SDS' natural language understanding technology enables AI to quickly and accurately understand the intention of conversation and conduct counseling. In particular, this technology is recognized for its technological prowess by taking first place in domestic and international AI machine reading competitions such as MS MARCO and KorQuAD 1.0 and 2.0.
First, when inquiries are received by AICC, AI counselors (chatbots or voicebots) perform tasks such as responding to inquiries, reviewing subscriptions, and receiving service applications.
Difficult inquiries such as technical support requests are automatically connected to a professional counselor, and AI interprets the conversation and automatically recommends the best answer or content appropriate to the situation.
After that, AI analyzes customer complaints (VoC) in real time, and automatically evaluates the content of consultation to improve quality.
By introducing AICC ▲Reduction of more than 50% of simple and repetitive tasks of counselors ▲Reduction of consultation time by 20% through real-time classification and answer recommendations of AI customer inquiries ▲New product planning and marketing utilization through conversation content analysis becomes possible Is the company's explanation.
Hong Hye-jin, head of Samsung SDS Solution Business Division (Executive Vice President), said, "AICC is an innovative solution that enables AI to handle simple consulting tasks, and counselors in charge of professional and complex tasks to improve the efficiency and service quality of contact centers. "We plan to continuously advance AICC by applying technology and actively expand our business to the manufacturing, financial, and service industries."
Author/ Translator: Jamie Kim
Bio: Jamie Kim is a technology journalist. Raised in Hong Kong and always vocal at heart. She aims to share her expertise with the readers at blockreview.net. Kim is a Bitcoin maximalist who believes with unwavering conviction that Bitcoin is the only cryptocurrency – in fact, currency – worth caring about.