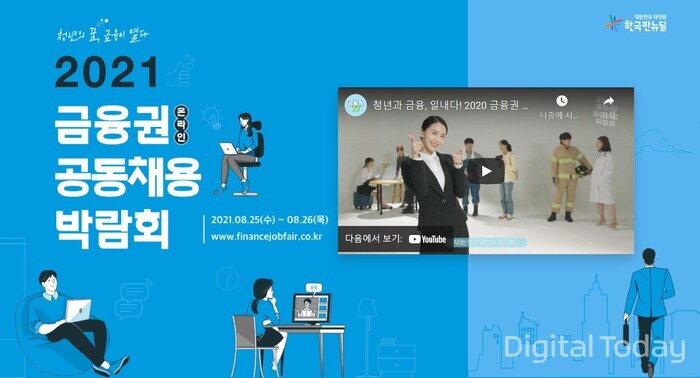 [Digital Today Reporter Kang Jin-gyu] Banking Federation, Financial Investment Association, Life Insurance Association, Non-life Insurance Association, Loan Finance Association, Savings Bank Federation, etc. 55 financial institutions sponsored by the Financial Services Commission and the Financial Supervisory Service on August 25-26, non-face-to-face online for two days It was announced on the 7th that it would hold a'financial sector joint recruitment fair'.
Held for the 5th time since 2017, this expo will operate a'financial industry regular recruitment information platform' to support employment in the financial sector and provide'artificial intelligence (AI) one-stop employment support service' for non-face-to-face employment preparation.
The website of the fair, which was previously operated temporarily, will be converted into a regular recruitment information platform in the financial sector and will be expanded and operated until December, and will provide financial sector employment information such as a financial sector employment calendar, financial sector employment white paper, and digital job introductions.
Financial companies provide an AI one-stop employment support service, from preparation of employment documents to job consulting, mentoring for incumbent workers, and practical mock interviews, to provide a place to experience the financial sector's non-face-to-face recruitment program.
In order to expand communication between financial companies and job seekers, contents such as an online recruitment briefing session where recruitment screenings and talents are explained and questions and answers are conducted, and a job-seeking talk concert where incumbent employees can hear the job-seeking know-how are also provided.
IBK Industrial Bank, NH Nonghyup Bank, Shinhan Bank, Woori Bank, Hana Bank, and KB Kookmin Bank are scheduled to conduct non-face-to-face interviews on August 25th and 26th. For excellent interviewers, the first document screening exemption benefits will be given for public loans in the second half of 2021.
The website of the 2021 Financial Industry Joint Recruitment Fair (www.financejobfair.co.kr) will open on May 10, and will provide a variety of contents sequentially, such as live employment lectures in May, employment talk concert in June, and recruitment briefings in July. .