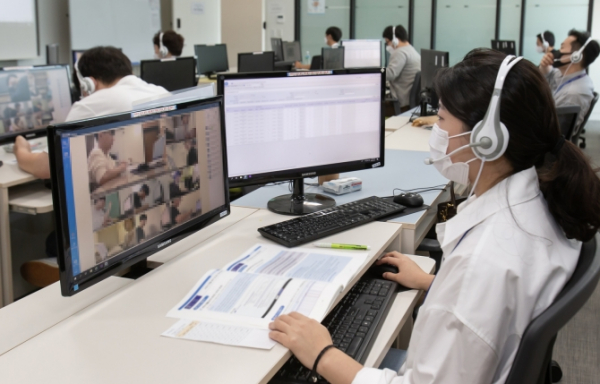 Samsung's'Job Aptitude Test (GSAT)', a written test for college graduates in the first half of 2021, will be conducted online for two days from the 8th.
As Samsung is the only company among the four major domestic groups to open a group-level college graduate recruitment, the participation of job seekers is expected to be higher than ever.
Samsung Electronics, Samsung Display, Samsung SDI, Samsung Electro-Mechanics, Samsung SDS, etc., which began in March, are divided into 3rd grade (college graduates) applicants for Samsung's major affiliates to take the GSAT test.
Depending on the Corona 19 situation, the GSAT in the first half of this year will be conducted online following last year. Last year, online exams were conducted once each in the first half and the second half, and this is the third time.
The test is conducted in 4 groups, once in the morning and in the afternoon for two days. The test time is about 2 hours, including 60 minutes for pre-inspection and 60 minutes for the test.
Candidates take the exam at home using a personal computer, and the proctor oversees the exam through a remote monitoring system. To prevent cheating, candidates should take pictures of themselves taking the exam with their smartphones.
Samsung recently provided the candidates who passed the first job suitability assessment with a'candidate kit' containing information on the online written test and necessary tools. For smooth progress, an online preliminary convocation was held on the 1st of this month to check the candidate's network and PC environment.
Samsung is planning to announce the final candidates in June to July after interviews and health checkups for applicants who have passed the GSAT.
Among the four major groups, Samsung has maintained the bond method until now. Previously, the Hyundai Motor Group and LG Group switched to the occasional hiring method.
SK Group, which will be hiring full-time from next year, has decided to recruit scarce personnel through regular hiring by affiliates in the first half of this year, and decide whether to conduct the final public loan in the second half of this year.