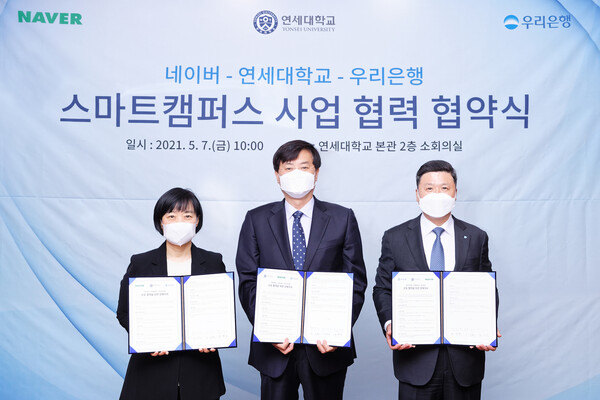 [Digital Today Reporter Choi Ji-yeon] Naver's certificate is also used on university campuses.
Naver announced on the 7th that it has signed a business agreement with Yonsei University and Woori Bank to build a smart campus business and develop joint services.
On April 9, Naver unveiled a blueprint for digital transformation of Woori Bank and the university's smart campus. Naver, Yonsei University, and Woori Bank plan to apply Naver Certificate to university portal services and continue cooperation on Yonsei-only financial services and learning solutions.
First of all, Naver will use the Naver Certificate to help Yonsei students take online lectures, check attendance, and take exams. After the Naver student ID is issued, various offline services such as access to libraries, school facilities, and book loans are discussed using QR codes.
In addition, it plans to use a Naver student ID as an identification method for Naver Expert and bands. Current students who have been issued a Naver student ID can use the online tutoring service for middle and high school students at Naver Expert, or freely network between alumni, such as undergraduates, clubs, and academic societies, at Naver Band.
Graduates can also use Naver Alumni Card to authenticate departments, admissions, and graduation year, as well as alumni discount coupons that can be used in Naver Shopping.
Naver is preparing to provide services that can help students find employment by linking the qualifications and academic information acquired by Yonsei University students and graduates.
Furthermore, Naver-Yonsei University-Woori Bank ▲class schedule alarm service, joint production of assignments through group chat rooms ▲Yonsei digital currency Yonsei Coin ▲Yonsei Pay, which can use commercial areas and transportation on and off campus ▲Artificial intelligence, big data education and learning Various ideas such as solutions will be discussed.
Naver CEO Han Sung-suk said, "Through the Naver certificate, we will expand various applications in real life so that you can authenticate yourself without having to bring your student ID, certificate, pass, etc. online as well as offline." "I will try to create synergy with the smart campus business that I meet and start with."