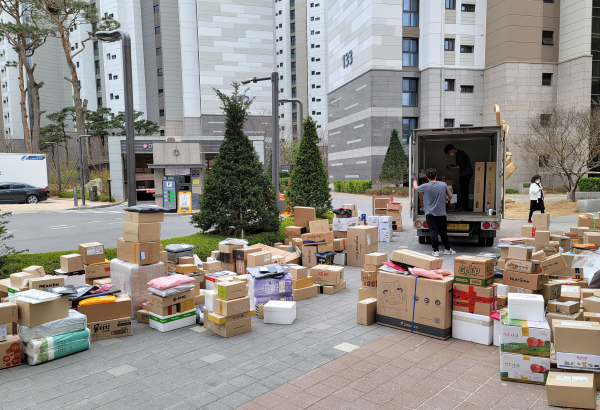 [Digital Today Reporter Jo Beliem] The Korea Federation of Trade Unions Service Federation (CTU) passed a general strike struggle on the 7th.
The parcel delivery union was approved with 77.0% as a result of the votes for and against the union members' general strike," he said.
The parcel delivery union held a press conference on the announcement of the request for the courier service provider and the parcel delivery service provider and the Ministry of Labor at 10 am in the conference room of the Service Federation in Seodaemun-gu, Seoul. Released.
The union held a vote for or against the industrial action from 6 am to 6 pm the previous day at polling places installed in 200 terminals and post offices across the country. If a majority of the enrolled members approve, the union will go on a general strike from the 11th.
The general strike of the parcel delivery union started from a conflict that arose when an apartment in Gangdong-gu, Seoul blocked the use of parcel vehicles on the ground road in the complex.
The apartment is a park-type apartment complex with no parking lot, and to prevent safety accidents and damage to facilities such as sidewalk blocks and flower beds by trucks, parcel delivery vehicles are prohibited from entering the ground.
The union is protesting that low-floor vehicles and handcarts can cause musculoskeletal disorders in courier workers or make them work for a long time.
The union also accused CJ Logistics CEO Kang Shin-do of violating the Occupational Safety and Health Act, saying that it is actually forcing the introduction of low-floor vehicles.
Author/ Translator: Jamie Kim
Bio: Jamie Kim is a technology journalist. Raised in Hong Kong and always vocal at heart. She aims to share her expertise with the readers at blockreview.net. Kim is a Bitcoin maximalist who believes with unwavering conviction that Bitcoin is the only cryptocurrency – in fact, currency – worth caring about.