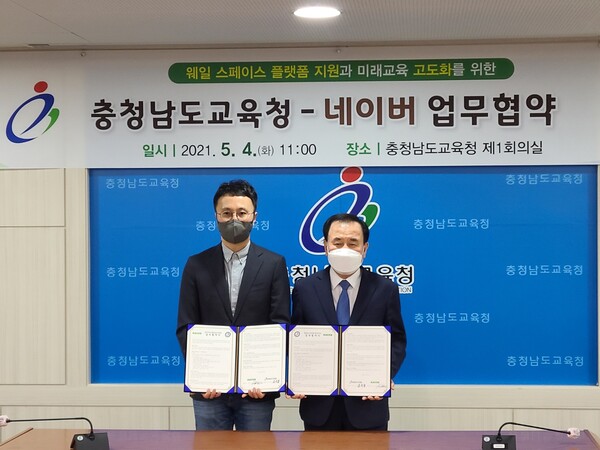 [Digital Today Reporter Hwang Chi-gyu] Naver (CEO Han Sung-suk) and Chungcheongnam-do Office of Education (Superintendent Kim Ji-cheol) signed a business agreement on the 4th to enhance the educational environment using the Naver'Wale Space' platform.
Naver'Wale Space' is a platform that provides various web-based services on the Whale browser and allows users to use all services with a single Whale account.
In the educational field, if the teacher sets the ▲programs and ▲browser interface ▲favorites that students will use according to the purpose of the class in advance, it is convenient for students to experience the same class environment without installing a separate program or setting a browser. In particular, if you use'Whale On', which is built into Whale Space, you can conduct remote classes and video conferences at any time, and up to 500 people can use it without time limit.
The Chungnam Office of Education decided to support front-line education sites in the search for a new educational environment by incorporating a wale space as needed. Naver decided to provide both human and technical support so that schools can utilize Whale Space while communicating with the educational field.
Naver Kim Hyo, the lead leader in charge of Whale, said, "Whale Space is doing its best to improve the service by putting the opinions of the education field first. Based on meaningful cooperation with the Chungcheongnam-do Office of Education, it is a platform that helps the education field. We will continue to work hard to establish ourselves."
Naver Whale has signed business agreements with six regional offices of education, including Chungcheongnam-do, Gyeonggi-do, Gyeongsangnam-do, Busan, Seoul, and Incheon.
Author/ Translator: Jamie Kim
Bio: Jamie Kim is a technology journalist. Raised in Hong Kong and always vocal at heart. She aims to share her expertise with the readers at blockreview.net. Kim is a Bitcoin maximalist who believes with unwavering conviction that Bitcoin is the only cryptocurrency – in fact, currency – worth caring about.