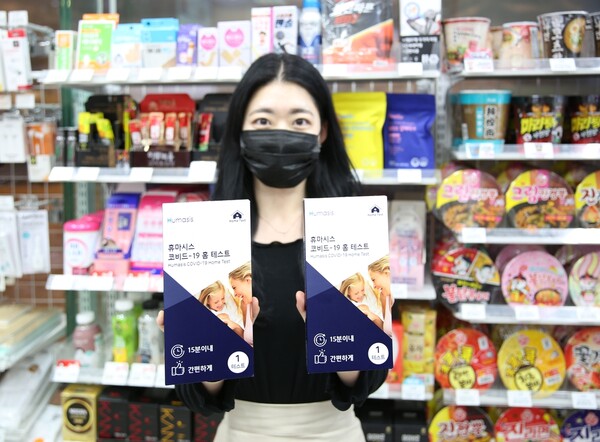 On the 5th, GS25, a convenience store operated by GS Retail, announced that it will start trial sales of a new coronavirus infection (Corona 19) self-test kit.
The trial-selling self-test kits were approved by the Ministry of Food and Drug Safety, and are two types of'Covid 19 Self Test' by SD Bio Sensor and'Covid 19 Home Test' by Humasis.
First of all, it will be sold at some directly managed stores in the Seoul area, and from the 7th, it will be available at about 2,000 stores that have acquired permission to sell medical devices, GS Supermarket, and Lalavla stores.
If you collect the secretion inside the nasal cavity with a sterile cotton swab enclosed in the self-test kit, mix it with the extract, and drop it on the test device, you can see the possibility of corona 19 infection within 15 to 30 minutes.
A GS25 official said, "The test kit is an auxiliary self-test medical device that detects the possibility of COVID-19 infection. If you suspect respiratory infection symptoms or infection, you must first perform a gene amplification (PCR) test."
Other convenience store companies, such as 7-Eleven, are also planning to sell Corona 19 self-test kits from the 7th.
Author/ Translator: Jamie Kim
Bio: Jamie Kim is a technology journalist. Raised in Hong Kong and always vocal at heart. She aims to share her expertise with the readers at blockreview.net. Kim is a Bitcoin maximalist who believes with unwavering conviction that Bitcoin is the only cryptocurrency – in fact, currency – worth caring about.