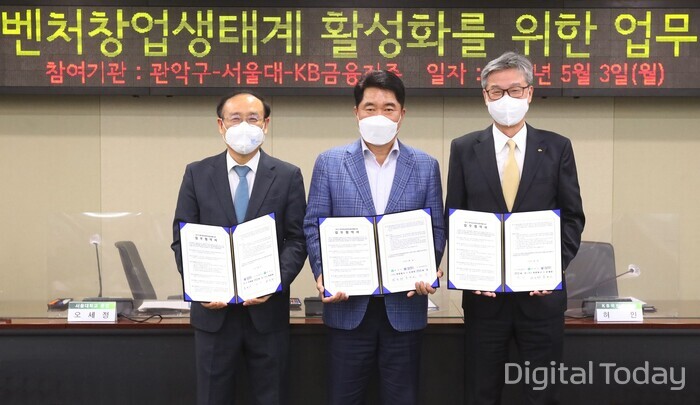 [Digital Today Reporter Kang Jin-gyu] KB Financial Group (Chairman Jong-gyu Yoon) announced on the 4th that it signed a'business agreement for revitalizing the venture and startup ecosystem in Gwanak-gu' with the contents of mutual cooperation with Gwanak-gu and Seoul National University to discover and foster excellent start-up companies. Revealed.
The signing ceremony was held at the Planning Situation Room at Gwanak-gu Office, attended by KB Kookmin Bank President Huh In, head of the Digital Innovation Division of KB Financial Group, Seoul National University President Oh Se-jeong, and Gwanak-gu Mayor Park Jun-hee.
With this agreement, KB Finance is promoting the establishment of the second support center,'Gwanak KB Innovation Hub,' in Sillim-dong, Gwanak-gu, following the startup cooperative space in Gangnam, Seoul. Currently, it has secured a space of 130 pyeong and is undergoing interior construction with the aim of opening in June.
The Gwanak KB Innovation Hub plans to support start-ups with a focus on establishing a mutual cooperation system such as shared development of local communities and knowledge and research resources through initial venture and start-up infrastructure support in the region.
KB Finance plans to select initial startups within 3 years of establishment with high creativity, innovation, and growth potential in various fields as well as fintech and provide a space for occupancy for one year.
It also provides R&D space, information, and networking opportunities necessary for the growth of startups, such as management consulting using KB Financial's expert group and investment support for scale-up.
In addition, it plans to foster innovative companies that enhance social value by establishing an organic cooperation system with organizations participating in the venture and startup support ecosystem in Gwanak-gu, including Seoul National University, while utilizing excellent human and material resources, while contributing to regional win-win development.
KB Kookmin Bank President Huh In said, "KB Finance will aim to scale up the corporate value of the tenant companies to an amazing level within three years based on their experience in fostering startups and cooperation know-how."
Since 2017, KB Finance has operated the'KB Innovation Hub', a startup collaboration space near Gangnam Station, where the startup ecosystem is concentrated, and has selected a total of 133 startups as'KB Starters', and has more than 180 partnerships through KB Financial affiliates. And investments of over 60 billion won.