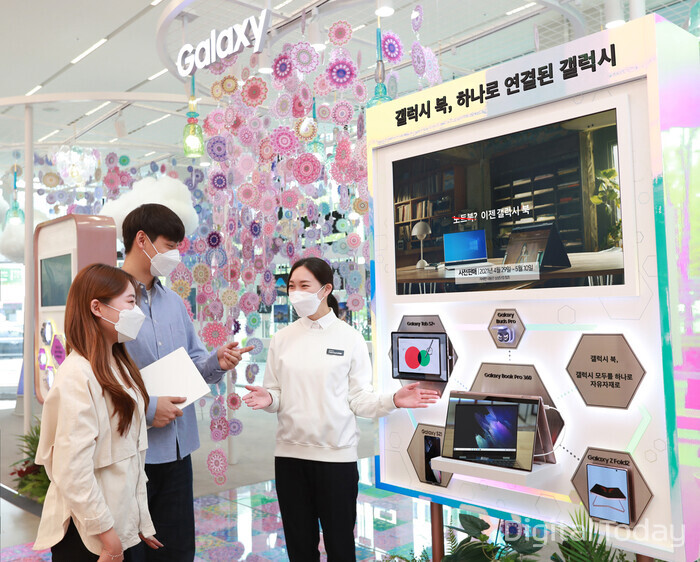 [Digital Today Reporter Kang Jin-gyu] Samsung Electronics announced on the 2nd that it will support the new features of the new notebook'Galaxy Book Pro' series unveiled at'Samsung Galaxy Unpack' on April 28 to the existing Galaxy Book series.
The Galaxy Book Pro series is a product that combines the performance of a Galaxy mobile and a notebook, and provides an ultra-slim and ultra-light design, interoperability with various Galaxy products such as smartphones, tablets, and wireless earphones, and differentiated functions of Samsung notebooks.
Samsung Electronics is a smart home device with laptops such as'Bluetooth Easy Connection', which automatically connects to a laptop by opening the case of the'Galaxy Buzz' series,'Quick Share', which allows users to share multiple files between Galaxy devices without network connection or account login. Functions such as'SmartThings' that can control the system will be provided sequentially within the year through the download of the Microsoft (MS) App Store.
New features of existing apps, such as your phone, quick search, and screen recorder, are currently available through app updates.
Target models are'Galaxy Book Flex 2 5G','Galaxy Book Flex 2′, and'Galaxy Book Ion 2'released in December of last year.
Samsung Electronics plans to continuously expand the update support model in consideration of hardware specifications and experience. Samsung Electronics also operates an experience zone where you can experience the linkage between the Galaxy Book Pro series and various Galaxy devices at Galaxy Studio in Samsung Digital Plaza.
Author/ Translator: Jamie Kim
Bio: Jamie Kim is a technology journalist. Raised in Hong Kong and always vocal at heart. She aims to share her expertise with the readers at blockreview.net. Kim is a Bitcoin maximalist who believes with unwavering conviction that Bitcoin is the only cryptocurrency – in fact, currency – worth caring about.