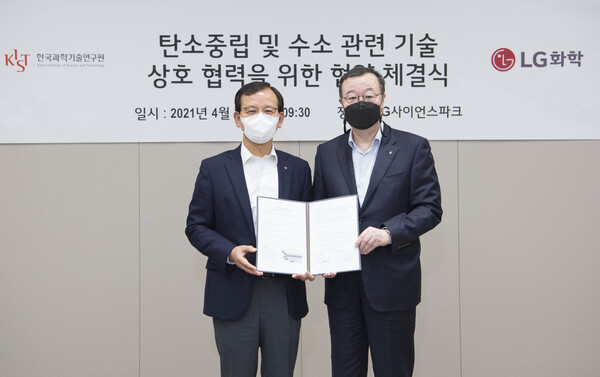 [Digital Today Reporter Cho, Beliem] The Korea Institute of Science and Technology (KIST, Director Seok-Jin Yoon) and LG Chem (CEO Hak-cheol Shin) are working on R&D and commercialization of breakthrough technologies essential for realizing carbon neutrality.
The two organizations announced on the 29th that they have signed an MOU for joint research and development of related technologies such as CCU (Carbon Capture & Utilization) and hydrogen energy, which are key technologies for realizing carbon neutrality.
At the agreement ceremony held at LG Science Park in Magok this morning, LG Chem's CTO (Chief Technology Officer) Yoo Ji-young and KIST Director Yoon Seok-jin attended.
With the support of the Ministry of Science and Technology Information and Communication, KIST has carried out the'Carbon to X Technology Development Project Group', the'Polymer Electrolyte (PEM) Water Electrolysis Core Source Technology Research Group', and the'LOHC-based Hydrogen Emission System Source Technology Development Research Group'. It is a domestic research institute that possesses all the original technologies for the entire cycle.
LG Chem is ahead of commercialization technologies such as economic review, demonstration, and scale-up of carbon-neutral technology based on its abundant experience in commercializing research projects.
It is expected that the development of innovative technologies related to carbon neutrality will accelerate as the two organizations promote joint R&D.
Under this agreement, the two organizations plan to cooperate closely in three areas: CCU and hydrogen energy technology-related commercialization, source technology R&D, and human resource development, which are essential for realizing carbon neutrality.
First of all, in the commercialization part, ▲converting CO₂ (carbon dioxide) to produce high-functional biodegradable plastics and high value-added compounds such as CO (carbon monoxide) ▲Possibilities from fields where synergies are expected, such as production of green hydrogen without CO₂ emission and utilization of raw materials and thermal and electric energy. Review and promote technology development.
High functional biodegradable plastics that can be produced by converting CO2 are environmentally friendly and have biodegradable properties, so if commercialized, carbon emissions will be drastically reduced, as well as the problem of waste plastics will be solved.
The use of CO makes it possible to produce syngas, which is a raw material for chemical products.
We will jointly develop full-cycle hydrogen technologies such as green hydrogen production without CO2 generation, safe hydrogen production and raw materials using compounds, and utilization of thermal and electric energy. This hydrogen technology is a representative strategy that can achieve carbon neutrality by replacing energy and raw materials in fossil fuel-based chemical processes.
In addition, the two organizations plan to expand cooperation in various fields such as AI (artificial intelligence) and DX (Digital Transformation) technology for the development of core materials and processes.
LG Chem, which is accelerating the reorganization of its business structure based on ESG beyond the limits of the existing petrochemical business, and KIST, which is reorganizing into a Korean R&D implementation system for challenge-innovative research, are the source technologies for carbon neutrality such as CCU and hydrogen energy fields. For research and development, it plans to promote close cooperative research through joint participation in national projects, establishment of joint research institutes, and commissioned research projects.
In order to cultivate human resources, it was decided to cooperate with each other through the development of a program for dispatching KIST degrees by LG Chem researchers and recruiting LG Chem by KIST researchers who participated in research projects.
LG Chem CTO Vice President Yoo Ji-young said, "With a business agreement with KIST, which leads the innovative technologies related to carbon neutral in Korea, we have prepared a bridgehead for early securing of CCU and hydrogen energy-related sources and commercialization technologies that require R&D from a long-term perspective." LG Chem will further accelerate ESG management by cooperating with KIST to advance related innovative technologies."
KIST Director Seok-Jin Yoon said, "It is time for the excellent research achievements that KIST has researched and developed for carbon neutrality to come out of the laboratory and apply them to the actual industrial sites to overcome the pan-national crisis." "We will not spare any support so that they can be commercialized and contribute to the development of the country."