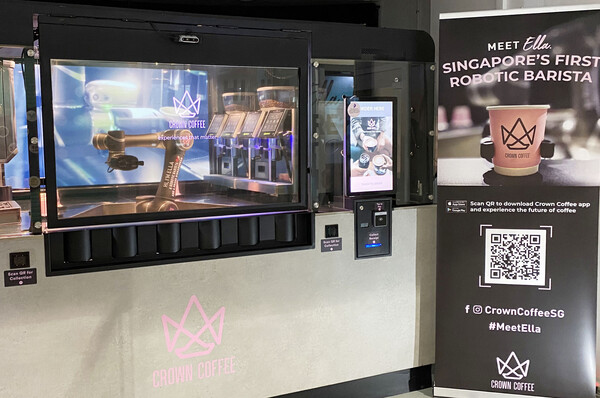 [Digital Today Reporter Jo Beliem] LG Electronics has started targeting global consumers by supplying large-scale transparent OLED signage to a large shopping mall in Singapore.
LG Electronics announced on the 28th that it has recently supplied a 55-inch (screen diagonal length of about 138 cm) transparent all-red signage to the first floor of a large shopping mall'Plaza Singapura' located on Orchard Road, Singapore's largest downtown area.
This is an unmanned store where you can order drinks through a kiosk, an unmanned terminal, or a dedicated app. LG Electronics installed a transparent all-red signage in front of the store's booth.
The transparent all-red signage catches the attention of shoppers passing by by showing a store promotion video or making coffee over the screen. Customers who visit the store can easily check how to use the unmanned store through the video displayed on the transparent all-red signage screen.
LG Electronics explained that this installation is meaningful as it presents a blueprint for stores in the non-face-to-face era through the wide use of transparent OLED signage.
Crown Coffee is being evaluated as a new breakthrough in Singapore by introducing innovative technologies to the traditional retail industry.
Transparent all-red signage is useful in places where customer interaction is required, such as hotel check-in counters and store consultation booths, as the importance of non-face-to-face services is increasing recently. It can be installed in museums, subways, and studios to induce customer interest, and can be used in the interior of autonomous vehicles or aircraft cabins in the future.
Unlike LCD signage, transparent all-red signage is an all-red product that does not require a backlight, and each pixel emits light by itself. By increasing the light transmittance, not only the original function of the signage but also the interior effect is excellent.
The clear picture quality and wide viewing angle, as well as the transparent design, make it less disparate even if you create a large screen by attaching multiple sheets together.
"We will realize customer satisfaction in various fields based on the world's best transparent OLED technology leadership," said Baek Ki-moon, managing director of LG Electronics' ID division.