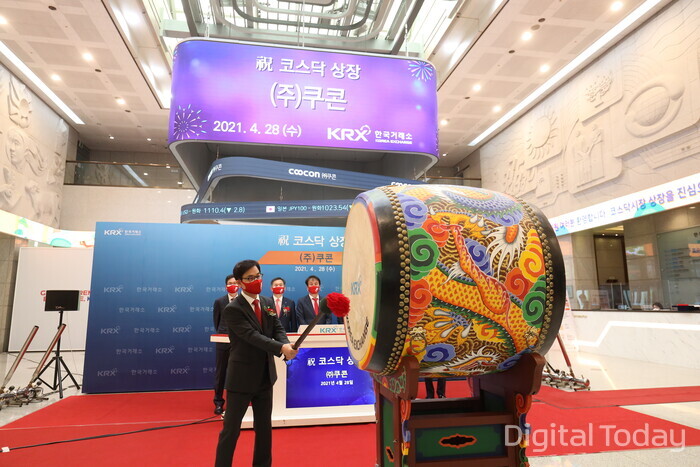 [Digital Today Reporter Kang Jin-gyu] Business data platform company Kukon (CEO Kim Jong-hyun) was listed on the KOSDAQ market on the 28th.
Founded in 2006, Kukon is engaged in the collection and connection of'data' as its main business. It collects and connects data from 500 domestic institutions such as finance, public, medical, logistics, distribution, and telecommunications, as well as more than 2000 institutions in 40 countries abroad, and more than 200 through the information application programming interface (API) store'Kukon.net'. API is provided.
In the demand forecast for institutional investors conducted from April 13th to 14th, Kukon presented more than 90% of the cases where the participating institutions offered a price above the top of the band, and the final public offering price of 45,000 won or more.
In addition, the subscription competition rate of 1596:1 was recorded in the public offering for general investors for two days from April 19th to 20th.
Kukon plans to take a leap forward as a global company by using the KOSDAQ listing as a foothold. The plan is to continue growth based on various growth engines such as expanding market-friendly data API products, preoccupying new My Data markets, and expanding the global market.
Kucon's 2019 results were aggregated as consolidated sales of 41.2 billion won, operating profit of 6.2 billion won, and net profit of 9.2 billion won, and the 2020 results recorded 41.4 billion won in sales, 11.2 billion won in operating profit, and 18.9 billion won in net profit.
Kim Jong-hyun, CEO of Kukon, said, "We will continue to focus on the data business that Kukon can do best and become a global number one business data platform company."
Author/ Translator: Jamie Kim
Bio: Jamie Kim is a technology journalist. Raised in Hong Kong and always vocal at heart. She aims to share her expertise with the readers at blockreview.net. Kim is a Bitcoin maximalist who believes with unwavering conviction that Bitcoin is the only cryptocurrency – in fact, currency – worth caring about.